Overcoming Common Eyewear Purchasing Objections
By Kayla Groves August 18, 2021
It is becoming more and more challenging to compete with large optical chains and with online optical retailers. However, when the patient is in your office, this is the perfect time to make sure they are purchasing their frames and lenses from their trusted eye care professionals. Instead of trying to compete with large optical chains and online retailers, try utilizing some of the following suggestions when a patient presents with some of these common eyewear objections:
'I'm going to purchase them online."
I'm sure you hear this one all the time. It's getting harder and harder to compete with online retailers, and realistically, you should stop trying. Big chains can purchase in bulk, and they can obtain products at a much lower price than a small independent practice. You don't purchase like big optical chains, so stop pricing like them. Here are some key points when you are having this conversation with your patient:
When you purchase your frames online, you assume that those frames will work for you based on a picture. You have no idea if those frames will fit comfortably or if they are a good fit for your prescription. When purchasing frames from your trusted eye care professional, you are getting frames that an expert has made sure fit properly on your face, are suited for your prescription, and you can get recommendations on new lens options and coatings from a trusted professional. When you purchase your frames online, you have no idea if they are a good fit for your face. Even with online visualization tools, it's challenging to determine if you are ordering the correct size. Frames are not one-size-fits-all. You must have the proper measurements to ensure the frames fit properly.
"I'm just looking around."
Many times, patients come through the door and instantly shut down any conversation with, "I'm just looking." Typically, staff will let the patient know if they need any help to seek them out, and they continue with their daily tasks. Unfortunately, this is where things go south. People who are "just-looking" are looking. They are there because they are looking at frames that they want to purchase. Here are some key points when your patient is "just looking."
Most people have no idea what they are looking for when it comes to eyewear. They have this picture in their mind about what they want, but the process is overwhelming. There are thousands of different styles to choose from, and most people don't know where to start. As an eye care professional, you should take this opportunity to help these people find what they are looking for. Start by asking a few simple questions like the ones listed below:
1. Do you already have a prescription from your eye doctor, or do you need an eye examination?
This opens the door to either get their prescription from their current eye doctor or schedule an appointment with your office.
2. Are you looking for something in particular?
For instance, the patient might like the glasses that one of their friends purchased. Ask to see a picture or have the patient describe them to you. That way you can show them similar styles that you have in your office.
If the patient is shutting down any conversation regarding their current prescription or what styles they may like, you should take this as an opportunity to pull frames that you think may look good on them. A simple, "Hey, I think these frames would look nice on you" can help solidify a sale.
"I need to check with my spouse."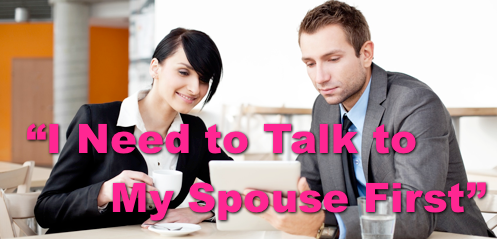 I'm sure you hear this several times a day. "I'm not sure if my husband or wife will like these. I should check with them first." Unfortunately, if your patient leaves, the odds of them coming back with their spouse is minimal. So instead, offer these helpful objections to coming back with a spouse:
"I couldn't agree more. They are the ones who have to look at you every day." This comment typically opens the door for humor and makes the patient feel less pressured. Offer to take pictures of your patient and send them via text to their spouse. Make sure you narrow it down to a couple of pairs, so the spouse has options. If you send just one pair, you are setting yourself up for a 50/50 chance of disapproval. Options help the patient narrow down which one they like best. You're more likely to get an "I like the first pair better than the second pair" than an "I don't like any of those."
At the end of the day, we all want to make sure our patients get the best quality frames and lenses for their vision needs. Ensure your patient understands the risks when purchasing frames online and utilize the recommended suggestions for the most common objections to buying eyewear from your office.