Eyecare Marketing for Back to Campus: Deals, Deals, Deals...
By Kate Gettinger, OD August 11, 2021
For many optometrists, back-to-school season brings a boost in patient traffic, with many patients trying to squeeze in last-minute summer doctor appointments or restock on their contact lenses before heading back to campus. Knowing that many potential patients are actively looking for an eye doctor during these times, what can we do to help encourage sales and make the most of the busy back-to-school months?
When we think of the back-to-school clientele, we are usually thinking about patients under the age of 30. However, don't forget that many teachers and parents may tag along to take advantage of summer lulls and fit in their annual eye examination. Our marketing should be targeted towards this youthful audience, overall. We can specifically tailor our promotions to encourage these potential patients to seek out our service and materials.
One of the main concerns among the campus crowd is cost. It's no secret that tuition rates continue to rise, and many students are taking on a hefty burden of student loan debt. We can therefore expect this clientele to be on the lookout for budget-friendly options when it comes to eyecare. If we want to appeal to students and educators, then we will need to address the issue of expense.
As tempting as it may be, it is worthwhile to avoid discounting the eye examination itself. As optometrists, we don't want to devalue our services or give the impression that a comprehensive eye examination isn't important. You don't see OB-GYNs or ER physicians offering free examinations, and so you shouldn't set the expectation that an eye exam is any less important than a medical examination.
If you are worried potential patients will balk at your examination fee, it may be worthwhile to advertise the insurance plans you carry and remind patients that co-pays may make an out-of-pocket payment much more reasonable. If you have a large university or two in your area, it can pay to do a little homework of your own and find out what the student insurance plans are and if there are any vision benefits. You can promote specifically to faculty and students of these institutions and let them know what their out-of-pocket examination cost will be, if any, as well as any additional discounts on frames and lenses.
If you want to offer rebates and discounts, focus on material goods. These days, many optometrists are competing with online frame and contact lens retailers. Patients will see you for the examination, ask for a "PD", and then be out the door with their prescription and logging into a website to order a new frame. The best way to stay competitive with these online retailers is to make it more appealing for patients to shop in-house.
Try to emphasize to patients that by purchasing frames and materials with your office, they will be supporting a local business. If you carry any frame lines with a unique story or a passionate local designer at the helm, highlight these brands and promote their uniqueness. Show off the quality of well-made products and let patients know that their eyeglasses are an investment, something that can last years if properly made and cared for.
At the end of the day, though, you'll still need to circle back to the problem of cost. Some patients won't even stop to browse frames if they know it's out of their budget.
One strategy to appeal to these cost-conscious consumers is to have a range of frames and lenses available for a lower price. This way, you don't necessarily have to discount every single frame line you offer, but you can pick and choose which products you can place on sale and still make a profit. Place these frames in a high visibility area with signage announcing them as a perfect back-to-campus package. Most patients will be more excited to see bundle deals, as well. This means that if you can advertise a flat price that includes the frame, single vision lenses, and an anti-reflective coating, it takes the guesswork out and lets the consumer feel confident that they can browse and know exactly what they will pay. Keep in mind, however, that often it is necessary to specify that bundle deals like these cannot be combined with vision insurance. By eliminating this opportunity to "double dip," you can set the discount price at the most appealing purchase point and also be able to rely on a consistent return on investment for every product sold.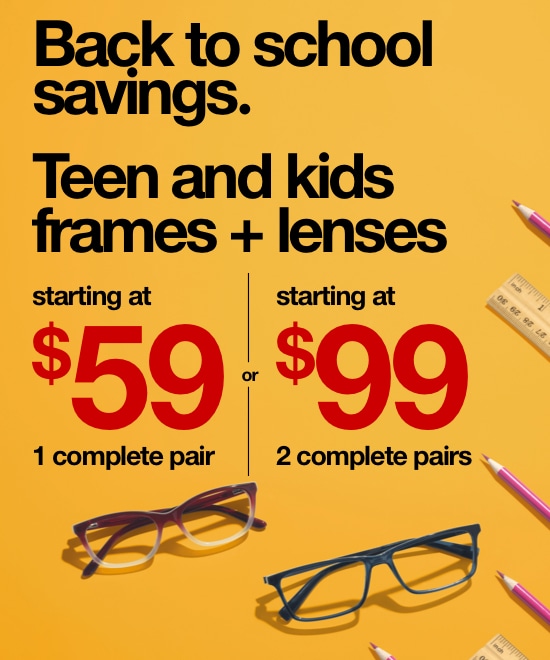 It can also be useful to have a conversation with your reps and distributors, as they might be able to offer you a deal on certain products, and then you can pass along those savings to patients. Some lens labs offer significant discounts off second pairs, so you can advertise to encourage patients to buy two or more pairs of lenses and know that you'll still be coming out on top. Be sure to inquire about any lens materials or coatings that the lab may be offering at a lower price than your standard order; often labs will have a proprietary arrangement where they can offer certain products at a reduced price.
Some optometrists offer "refer a friend or family" deals, where a patient can get a particular rebate off his or her glasses if they refer another patient who makes a purchase. Some deals include a discount for the second purchaser, as well, as an additional incentive. These rebates take a little more coordination to track referrals, but it can be worth it to bring in new patients and increase overall sales.
With contact lenses, we should all be advertising the brand-specific rebates available for purchasing a one-year supply. Make it easy for patients to redeem these rebates by giving them all the materials necessary for them to file for the reimbursement, such as an itemized receipt, and a clear set of instructions for how to apply for the rebate. When quoting contact lens supply prices, be sure to mention the total price and then the price after the rebate, so patients can realize how much money they will save in the long run.
To compete with online retailers, make it convenient for patients to shop for contacts with you. If you have the ability, having a stock of spherical monthly and daily lens supplies in common prescriptions can help make sales to the patients who need contacts right that minute. If you can offer the opportunity for patients to walk out of the office with their contact lens supply that day, it can often override the desire to go home and order online and then wait for the shipment to come in the mail.
If your office isn't able to hold a supply of lenses in stock, then you can appeal to potential purchasers by offering free or discounted shipping if they purchase from you. Make sure patients know if they have insurance that can be applied towards contact supplies, and let them know that your office can easily apply for these benefits so not only does the patient get the best price, but they don't even have to lift a finger to do so.
Back to school season can be hectic, but it's a great opportunity for a practice to gain new patients and make more sales. Don't miss out on this potential pool of patients. Reach out and promote to students and educators using the strategies described above, and you'll be head of the class in no time.